Understanding the Importance of Employee Engagement
We're in the middle of what many are calling a permacrisis. In short, we've endured a long period of dizzying and unprecedented events. This places us at greater risk for fatigue, and as leaders, increases the challenge of growing our culture and sustaining employee engagement and retention. At the same time, we're trying to transform our organizations into irresistible places to work and compete in an unpredictable environment. Dexterity, ingenuity, and grit within our teams are basic to survival. In this context, while the formula for our success is evolving, leadership that prioritizes employee well-being and engagement and intrinsic motivation to sustain retention and engagement is more important than before.
The Business Case for Intrinsic Motivation
Sustaining energy and motivation separate from any external forces is linked to a plethora of business-critical factors. In short, employees who are intrinsically motivated are more:
They also report a higher level of job satisfaction (i.e., they believe the organization is doing a good job of meeting their needs) and a significantly lower rate of burnout. It's the managerial equivalent of having your guacamole without the extra charge—a workforce that is both productive and likely to attract and earn the trust of others.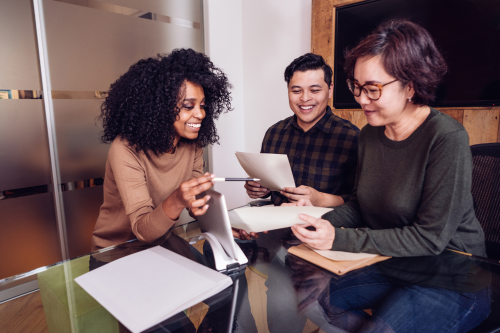 Rewards and incentives help (indeed, we've shared how engagement strategies are a bit like our favorite seasonal beverages), but they aren't the bedrock on which to build an enduring culture that supports intrinsic motivation. Excessive reliance on external motivators, like incentives, narrow focus, reduced creativity, and increased counter-productive behaviors, like lack of collaboration and teamwork.
Three Pillars of Intrinsic Motivation for Driving Results
Interestingly, to foster intrinsic motivation, the focus is on meeting our three fundamental psychological needs—autonomy, competence, and relatedness. While these words probably aren't new to you, let's walk through what each means in terms of our core needs at work.
Autonomy: This is the urge to feel in control of your actions and decisions. Leaders can increase the sense of autonomy by involving employees in decision-making processes, especially during periods of change.

Competence: This refers to the need for mastery and the growth of one's skills. Leaders can boost competence by offering clear objectives, providing coaching, and offering opportunities for stretch assignments.

Relatedness: The need to connect with others and be part of a greater community. Leaders support relatedness by growing an inclusive culture and ensure open lines of communication.
For organizations, these needs are non-negotiable when it comes to creating that irresistible workplace we talked about. When these needs are met productivity and collaborating with others becomes possible. Without them, building a strong, consistent, and healthy culture becomes as difficult as trying to solve today's Wordle blindfolded.
Speaking of online games, the degree to which these three needs are nurtured in video games was linked to greater time played, enjoyment, and commitment. Specifically, multi-player games (relatedness) that allow greater individuation and options within game play (autonomy), and opportunities to learn and master challenges (competence) create a more engaging experience that leads players to invest more time within the game.

Leadership's Role in Cultivating Intrinsic Motivation for Engagement and Retention
Given that motivation is critical in the employee experience, it's hardly surprising that leadership styles have a profound impact. Positive, empowering leadership can elevate levels of intrinsic motivation, while toxic leadership can do the opposite.
Leaders have the unique advantage (or burden, depending on your perspective) of being the architects of the culture. Therefore, an intense focus on structuring an environment that encourages intrinsic motivation, especially when the organization is navigating through rapid changes, will leave a lasting impact.
Building Autonomy
Involve Employees: Reduce the autocratic aura of change by involving employees in how it takes shape.
Align Vision: Ensure the purpose and vision for change resonate with employee values.
Enhancing Competence
Skill Development: Provide training and coaching for new ways of working.
Constructive Feedback: Feedback should be immediate and actionable.
Fostering Relatedness
Inclusive Environment: Actively involve all perspectives in decision-making.
Well-being Check-ins: Regularly monitor the stress levels and overall well-being of your employees. Investing in well-being programs.

Recognizing and Supporting Growth
In a world characterized by constant changes and disruptions, a strategic leadership focus on intrinsic motivation provides enduring stability. By adopting a people-first leadership approach and focusing on core psychological needs, we not only prepare their teams for present challenges but also for the opportunities and setbacks of an uncertain future marketplace.
To truly thrive through the unpredictable, leaders must embrace their role as the guardians of intrinsic motivation across the employee journey, and consequently, engagement and retention. Because let's face it, engaged and intrinsically motivated employees are not just a valuable business asset; they are the very foundation upon which enduring and successful organizations are built.
Begin strengthening your culture today. Access a resource kit for building and sustaining engagement and culture.