Finding the right fit is easier with the right tools
CorvirtusHire™ is a customizable and mobile-optimized applicant tracking system that is user-friendly and intuitive for both candidates and hiring managers. CorvirtusHire™ is designed to allow you to quickly recruit, screen, and select quality candidates who will perform beyond expectations, fit your culture, and stay for the optimal amount of time.
Source
Create a custom career page with your brand. CorvirtusHire™ puts you in the driver's seat by offering the flexibility to design a careers page with your brand and culture in mind, creating an engaging experience for candidates from the very beginning.
Set and require job approvals. Are you hiring for a highly specialized position? When creating a job, you can set up an approval system to have the job description be reviewed by multiple users of the system before it's posted live for candidates.
Post to job boards. With CorvirtusHire™, you can save time with automatic job board posting to high visibility sites like Indeed, ZipRecruiter, and LinkedIn – all at no additional cost.
Share jobs automatically on social media. Leverage your company's social media presence to support your recruitment efforts by directly posting job links to your company's Facebook, Twitter, and/or LinkedIn accounts.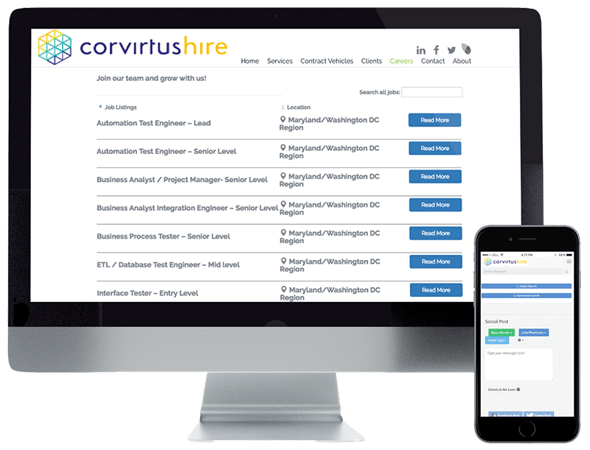 Screen
Integration with Corvirtus assessments. Our pre-employment assessments are integrated with CorvirtusHire, allowing for assessment results to be posted directly back into the platform. What's more, we can mix and match different tests to create a custom assessment bundle to meet your needs around screening for performance, culture-fit, and retention.
Custom candidate profiles. Each candidate profile provides you with access to their resume, cover letter, and assessment result, if applicable. Additionally, from each profile, you can view candidates' applications, send reference checks, view LinkedIn profiles, and send direct messages.
Job-specific candidate pipelines. For each job posted, you have access to custom analytics including number of candidates at each step of the process within that job (e.g., application, assessment, interview) and average pass rate (i.e., average percentage of candidates moved from each step to a new positive step in the recruit flow).
Custom pre-screen questions. Create job-specific pre-screen questions that candidates must answer when first applying. These can be set as knockout questions to screen candidates out who don't meet the basic requirements for the position (e.g., work availability).
Candidate text messaging from the platform. Connect with candidates more easily than ever before with text messaging built into the platform, allowing for direct messages to be sent to candidates to schedule phone screens and interviews, or to communicate any important information.
Two-way calendar interview scheduling. Sync up the calendar in CorvirtusHire with your personal calendar, update your schedule, and share your calendar and availability with candidates to seamlessly schedule interviews.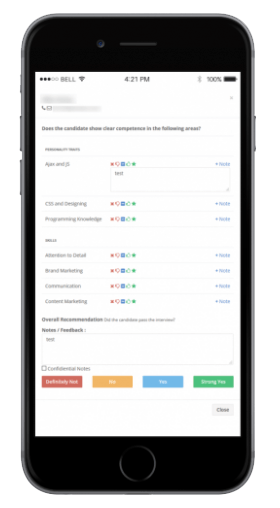 Streamline
Customizable recruit flows. Customize your recruit flows by date range and job and view the most recent activity within each recruit flow. Each time candidates are moved to a new step, such as completing an application or an assessment, all activity is tracked and reported for your review.
Automated reference checking. Create sets of questions for candidate references and attach them to jobs. These questions can be sent out seamlessly from the candidate profile, allowing for references to respond to these questions, and have responses posted back into the candidate's profile.
Automated status letters. Have you decided to move a candidate on to the next step in the process? Perhaps you are ready to make an offer of employment? Customize and create status letters that you can schedule to be automatically sent out to candidates in your pipeline. You can also set up bulk sending, allowing you to share information with multiple candidates at once.
Customizable reporting and analytics. CorvirtusHire provides many industry-standard reports that you can run to gain insight into your candidate pipeline and useful analytics. For example, building a total candidates/jobs summary report allows you to view the current recruit flow status of candidates or jobs based on recruit flow. A resource ROI report displays the return on investment of each of the system user's job posting resources by showing the number and percentage of candidates hired based on where they are source from, providing insight into where to focus your recruiting efforts.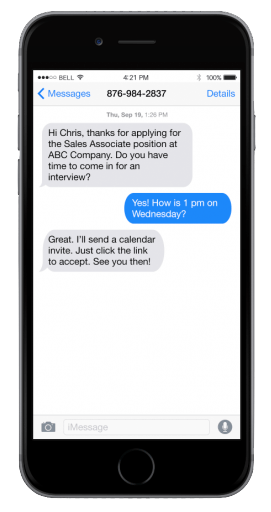 Hire
Onboarding new hires. With employee onboarding on CorvirtusHire, you can transform paperwork to electronic documents, create a pipeline of onboarding tasks for system users, and track onboarding progress and feedback from new hires. Any existing documentation you currently use can be seamlessly uploaded into CorvirtusHire, allowing for paperwork to be electronically sent to new hires for signature. All files are stored on each new hire's profile in the system.
Background check and payroll integrations. CorvirtusHire is already integrated with a variety of background check and payroll providers, but we are always open to additional integrations to meet your needs. Background check integrations include Aurico, Edge, Data Facts, Verified First, Proforma, InquireHire, Shield Screening, and Talent Wise. Payroll integrations include ADP, Namely, Paycom, Paylocity, and Proliant.
Check out our brief tutorials to see CorvirtusHire in action: