Are hiring assessments in the best interest of job seekers? How important is the "candidate experience" we keep hearing about? Everyone from the Wall Street Journal, to talent management publications, to Forbes has an opinion on what you should be doing with your hiring process. Time magazine, one of the most significant print news publications in history, recently featured a cover story on hiring assessments. The authors suggested they are frequently vague, frustrating, and require too much time of applicants desperately in need of jobs.
We agree there are many assessments that fit that description, and as the economy improves and the job market tightens the candidate experience is an increasingly important part of the hiring process. For one thing, your hiring process is your future team members' first exposure to your brand. Just as applicants try to impress during an interview, your application and hiring assessments should impress applicants. Applicants are selling themselves and so are companies; especially to your most desirable candidates. Assessment length, content, and how the assessment aligns with your consumer and employee brands are three cornerstones that influence candidate attraction and new hire attitudes and expectations.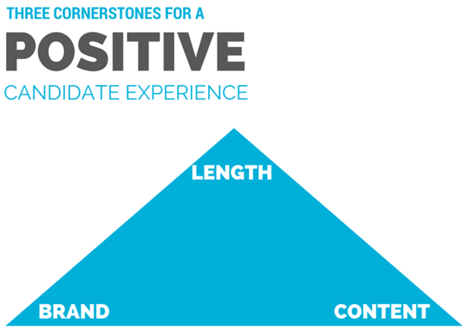 Assessment Length
The general acceptable range for an assessment is 15 to 45 minutes. The data show that positions with higher levels of responsibility, experience, and education requirements can run closer to 45 minutes without frustrating candidates. By using assessments focused on performance factors that exclude irrelevant information, you can have a shorter assessment that engages candidates without compromising important information. You can also have two shorter hiring assessments to maximize the amount of information you receive from candidates.
While it's easy to fall into the shorter is better mindset for assessments, a hiring assessment can be too short. Imagine you've found a job opening you love, but when you get to the assessment there are only six questions and it takes less than five minutes to complete. In this situation, the data shows that candidates feel frustrated that they didn't have the opportunity to fully show their strengths.
Engaging Content
When people think about employment assessments they often remember general first person statements they were asked to endorse on a "Strongly Agree" to "Strongly Disagree" scale. These items could include, "I enjoy being around others," or "I use a schedule to plan my day." It's important to note that no one item on its own is a decision-maker. Instead, several items relating to factors such as extraversion or detail-orientation are combined to look for trends across items. To improve the candidate experience even further, you can measure performance drivers in different ways. For example, Corvirtus offers several situational assessments that engage candidates in customer service, conflict, or management scenarios. We also have assessments that ask candidates to select from a list which tasks they are most likely to complete, or which tasks they are least likely to complete in a day. Incorporating several means of assessing behavior gives the candidate variety and strengthens their belief that the assessment is related to job performance.
Employment Brand
Job candidates must manage a lot of uncertainty. Even with all the media channels and information about employers online, it's impossible to fully understand what the job will be like. In the absence of a complete picture, candidates develop beliefs about your employment brand (e.g., you are professional, selective), or what you are like as a place to work, based on the assessment experience. By using assessments that clearly convey what you expect from new hires you can build a stronger employment brand. We encourage our Customers to include a realistic job preview (RJP) to give candidates the opportunity to directly compare their preferences and personality to the demands of the job.
Building a hiring process that attracts candidates that will perform, fit, and stay for the right amount of time is challenging. You need a hiring process that gets you the information you need to make the right decisions, while also engaging candidates. By considering the three cornerstones of length, content, and brand, you can engineer a system that drives performance.
To learn the steps to building an effective hiring process, check out our latest eBook: How to Build a Hiring Process