BACKGROUND: When Chris Rodrigue began consulting with Sammy's Grill in 2015, the company struggled with high turnover – much of which Chris attributed to their lack of a standardized hiring process. Many managers had not been properly trained on how to interview, so they fell into a pattern of ask¬ing "whatever questions they wanted, handing them a uniform, and asking when they could start." This type of process not only results in turnover but leads to a mismatch in culture-fit.
OBJECTIVE: Develop and implement a structured hiring process based on the competencies needed in each position from back-of-house to management, to not only perform the job well, but to fit the culture of Sammy's Grill.
WHY CORVIRTUS: Sammy's Grill faced only one primary challenge when recruiting applicants: how to screen for quality hires – people who would perform, fit their culture and brand, and stay. When it came to the assessments, Chris previously worked with Corvirtus at Taste Buds Management and had experienced great results. After implementing Corvirtus assessments, turnover decreased from over 100% to 90% within only a few months. Over the next few years, turnover continued to decrease, falling below 40%. In addition to having great results with retention, Chris noted that the quality of employees increased, making it easier and faster to train new hires. Employees focused more on growth and viewed the job as more than "just another paycheck." He knew Sammy's Grill needed these results – and making the case was simple: if they reduced turnover by just seven people, it would pay for itself!
SOLUTION: Corvirtus collaborated with Sammy's Grill to design a structured hiring process, which included clear definitions of performance for each job group, assessments, and interview guides. Because Corvirtus partners with a wide range of applicant tracking systems – including Sammy's Grill's chosen provider, Corvirtus could focus intensely on what their team does best – building hiring solutions to support the success of Sammy's Grill. Specifically, their team:
✓ Conducted interviews with strong performers in FOH, BOH, Management, and enterprise leadership to understand performance and what made Sammy's Grill's culture and brand unique.
✓ Developed potential hiring assessments specific to Sammy's Grill. This included a validation study to "test the tests" on current team members to make sure the tools identified top performers.
✓ Designed, structured, competency-based interviews with set questions and scoring to evaluate a candidate's potential and opportunities for growth.
With the validation study, Sammy's Grill leadership could understand how the assessments would select candidates with a significantly greater probability of success.
RESULTS: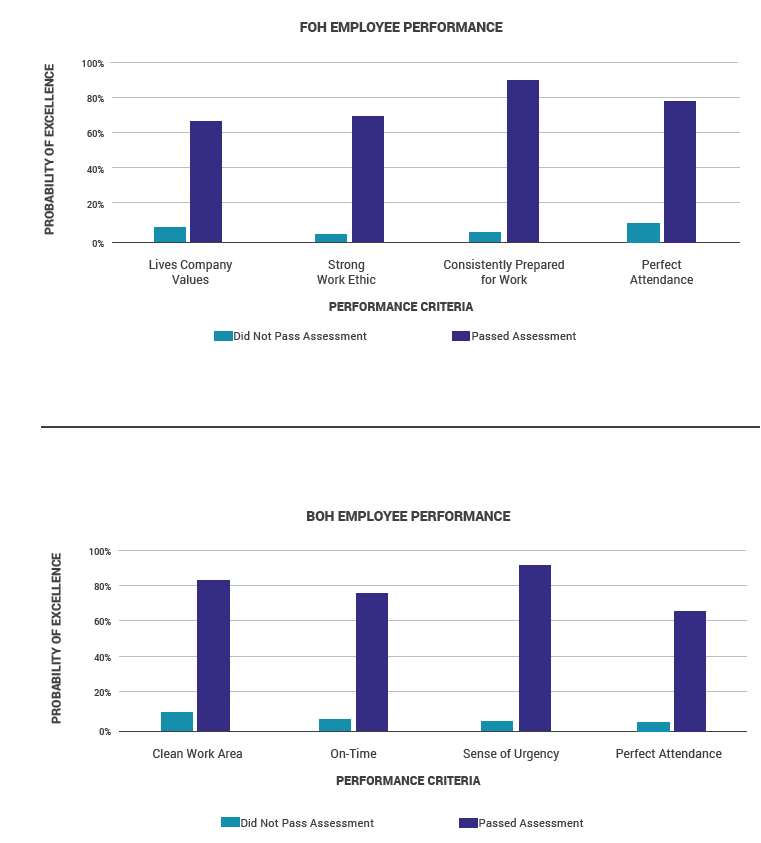 Through leveraging Corvirtus assessments, Sammy's Grill can easily select the best candidates for both hourly and managerial positions. All hiring managers at Sammy's Grill are now using the same structured interview process, as a recipe for growing a strong team and hiring top-performing team members at a much greater rate than before. In addition, management hires come up to speed faster after being hired and are more likely to lead in alignment with the culture and brand.
Just six months into the partnership with Corvirtus, Sammy's Grill had seen a 25% reduction in turnover and the number of full-time staff had also notably increased.
Positive online guest reviews have also increased, which Chris attributes to improved retention and more stable teams. Corvirtus assessments not only makes it easier for Sammy's Grill to build a strong high-performing team, but also for them to increase guest loyalty by having team members who can grow and thrive.