Defining Diversity Before Leveraging It!
Part One
Diversity is a concept that is difficult to define yet everybody knows the term. Ask five different people to define diversity, and you'll likely get five distinct answers. Diversity is unique mixtures of people characterized by similarities and differences in the way they identify at the personal, group, organizational, and social level. Given that broad and dynamic definition, it's no surprise that organizations are spending millions of dollars a year to make sure that they provide an inclusive, open-minded environment where diverse individuals will thrive.
Many believe diversity is not a business imperative, but here are two reasons to consider otherwise:
A recent McKinsey study shows, "Companies in the top quartile for racial and ethnic diversity are 35% more likely to have financial returns above their respective national industry medians." [1]
As a 2015 Deloitte study showed, "diverse companies had 2.3 times higher cash flow per employee over a three-year period than non-diverse companies did." [1]
In some industries that lack diversity, such as oil and gas, leaders are concerned about the scarcity of future talent. Julie Dewane, VP of Global Supply Chain for GE Oil & Gas Measurement & Control, believes that many petroleum engineers will retire soon, and diversity will play a major role in replacing that talent. A recent LinkedIn study shows that women only make up 26.7% of all oil and gas profiles, indicating the industry has a long way to go. [2]
With all the talk about diversity, companies risk wasting time and money if they are not properly educated. Unfortunately, organizations can spend their entire budget modifying the lack of inclusivity in their environment, but unless they educate people in all that cultural diversity entails, that money will be wasted. On top of the economic disadvantages I just mentioned, diversity has a broader organizational impact. Effective diversity management can support key organizational development initiatives, improve recruitment opportunities, advance inclusiveness, and enhance creativity in a diverse workforce. [3] In today's global economy teamwork is more important than ever, and diverse teams working together will accomplish much more than groups that lack diversity. Additionally, and of upmost importance, properly managing diversity will provide legal defensibility against charges of discrimination. Adequate and compelling HR strategies focus on increasing organizational learning, flexibility, knowledge creation, and the development of a work environment which is conducive to diversity management. But before we can properly implement any strategy, we should understand what diversity is.
The What of Diversity
Diversity should be thought as both a dimension and a process. This is the only way to capture the static characteristics and its dynamic nature. An easy way to visualize the dimensions of diversity is to think of a pyramid. The base relates to Inborn Human Characteristics (e.g., race, gender, sexual orientation), followed by Personal Experiences, Organizational, and ultimately Style/Tendencies at the peak of the pyramid. When we typically think of diversity, most organizations only account for the first or second level of the pyramid, in large part due to them being protected classes.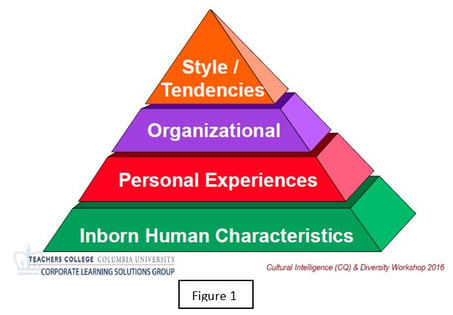 It's a good start, but there is still a lot of room for improvement. Personal Experiences such as, educational background, geographic location, religious beliefs, and even marital status are a little more difficult to account for at work, especially while maintaining the confidentiality requirements during the hiring process. Before the first day of my graduate cultural intelligence class, we all took cultural assessments, and to the surprise of everybody, we all scored very low! It wasn't because we were insensitive or unaccepting, it was that our individual definitions of diversity were too narrow. Companies have to develop comprehensive strategies to accommodate for employee's personal experiences. Well-designed assessments can effectively measure even the most complex and dynamic cultural dimensions, significantly simplifying the tedious job of the hiring manager.
The top two sections of the pyramid tend to be more difficult to understand and therefore, they are rarely accounted for in the work environment. The Organizational level involves diversity in the workplace structure. Employees from different levels, functions, departments, and even unions have different day-to-day routines and ultimately unique experiences. For example, two middle-aged white men, with the same education and socioeconomic level, will have very different perspectives if one works in the accounting department and the other one as a regional manager. Despite all the similarities, their occupational differences ultimately form two diverse individuals. The top of the pyramid regards a person's learning style, conflict resolution, problem solving, decision making, and their response to differences. These dimensions can't be easily seen and they often take a lot of time and frequent interactions just to identify. What makes it even harder is that an employee most likely is not comprehensively self-aware of their style and tendencies. This is when a properly-designed, validated, development-focused assessment can not only give clarity to an individual's style, but also help an organization see if that candidate is capable of effectively working with people from a variety of backgrounds and experiences.
The How of Diversity
A hiring process that includes validated, evidence-based, assessments for cultural intelligence doesn't guarantee a diverse workforce, but it is the first and most important step in the process. Recognizing diversity factors in the environment, also known as creating contextual awareness, both at the individual and organizational level, allows for conceptual clarity. Simply put, without understanding all that cultural diversity entails, major concepts won't be grasped and all inclusivity initiatives will fail. But, once there is understanding around the idea, informed action can take place. Building a culture that values diversity is a process. During this process awareness turns into knowledge, which then turns into development of skills, and ultimately into application. It is through this process that an individual develops their cultural intelligence and an organization can transition from a mono-cultural to multi-cultural work environment. (See Figure 2)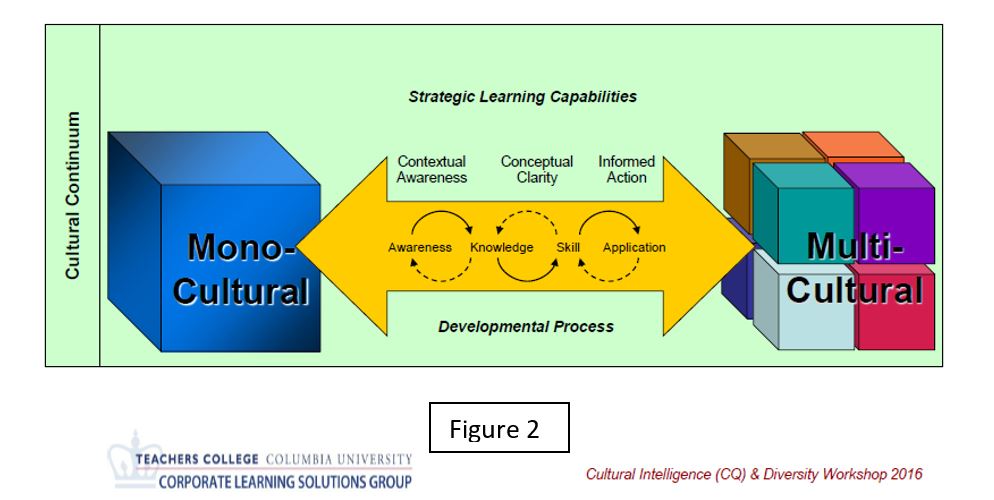 What's even more important to understand is that diversity isn't an ultimate, final destination, but a continuous, ongoing process. It is a mentality, as well. This is why organizations should constantly and consistently work to understand the differences and similarities of identity groups at every level. Group dynamic studies have shown that people who bring different perspectives, ideas, backgrounds, and styles together, with the purpose of achieving a specific goal, will accomplish more than individuals with similar backgrounds. Successful, diverse groups require a lot of effort, but if done right, that hard work and multiple perspectives will yield better and more reliable results. Another benefit of assessments is that you can test both a candidate's cultural intelligence and their ability to learn and adapt – leading to a more open-minded work force. Empathy, resilience, and open-mindedness are a few traits that employees need in their cultural diversity developmental process that hiring assessments can measure.
Now that you have an understanding and definition of diversity, Part two of this blog will discuss how assessments can help your organization leverage diversity into a competitive advantage.
Download our Whitepaper: What is Culture?
---
[1] Why is Diversity Good for your Bottom Line – Anka Witteberg (2017) – http://fortune.com/2017/01/18/leadership-diversity-bottom-line-career-advice/
[2] This industry has even fewer women than tech – Susan Price (2015) – http://fortune.com/2015/08/04/women-energy-industry/
[3] Managing Diversity through human resource management: an international perspective and conceptual framework – Jie Shen; Ashok Chanda; Brian D'Netto; Manjit, Monga (2009)
[4] Maltbia, T.E., & Power, A.T (2015). A leader's guide to leveraging diversity: Strategic Learning capabilities for breakthrough performance. Amsterdam: Butterworth-Hein1emmann.